Today's Podcast
It's too much
Stronger U.S. payrolls, lower unemployment, higher-than-expected incomes
US Treasuries are selling hard; money markets take precedence for +75 basis points from the Fed in September.
Fed's Bowman says 75% should be on the table pending a significant drop in inflation
Stocks were off guard despite rising rates, consumer discretionary suffered
USD stronger across the board, led by 1.6% jump in USD/JPY; DXY +0.9%
Senate passes tax and climate deal Sunday by 51-50, heads to House Friday
US CPI (Wednesday) looms large; local NAB biz survey, W-MI consumer confidence
It's enough, it's enough, Too much, too much – The Beatles
Friday's data highlights:
US nonfarm payrolls in July 528,000 vs. 250,000 expected
Two-month revisions to US nonfarm payrolls +28,000
Unemployment rate in the United States in July 3.5% against 3.6% and 3.6% expected
US average hourly earnings in July 0.5% m/m vs. 0.3% expected (June revised to 0.4% vs. 0.3%)
US July average hourly earnings 5.2% YoY vs. revised 5.2% hike (from 5.1%)
July US Labor Force Participation Rate 62.1% vs. 62.2% vs. 62.2% expected
US Consumer Credit June $40.15 billion vs. $27 billion expected
Unemployment rate in Canada in July 4.9% unchanged vs. 5.0% expected
July Net Employment Change in Canada -30.6k vs. 15.0k expected
Turnout in Canada in July 64.7% vs. 64.9% and 64.9% expected
China's trade balance in July $101.26 billion vs $97.94 billion expected
China exports 18.0% year-on-year vs. 14.1% expected in July
Imports from China in July 7.4% YoY vs. 5.7% expected
An overall stronger-than-expected US jobs report on Friday dominated market price action over the weekend. A rather vicious sell-off in the bond market led by the front end of the Treasury curve pushed the 2/10 curve to -40 basis points (the most inverted since August 30, 2000). Significantly higher returns propelled the USD higher across the board (DXY 0.9%), predictably led by USD/JPY, up 1.6% on the day and with the AUD and NZD down +/- 1%. Somewhat stronger than expected import and export growth numbers from China on Sunday could provide some modicum support for the Antipodean currencies at the start of the new week, although the reality is that geopolitical developments aside, Whether Friday's market moves continue or at least partially reverse this week largely depends on Wednesday's July US CPI data.
The rise of 528,000 headlines in the US payroll in July, more than double the 250,000 expected, was compounded by a net upward revision of 28,000 in the combined May/June figures. The drop in the unemployment rate from 3.6% to 3.5%, matching its pre-pandemic low, owed something to a 0.1% drop in the participation rate to 62.1%. However, this can be of no comfort to policy makers, not seeing the ease of finding a job or moving to better paying jobs, drawing more people into the labor market, thus heightening fears that growth wages do not diminish quickly. Indeed, average hourly earnings were revised up to 5.2% on the year to June and remained there in July thanks to a monthly rise of 0.5%, which followed a few months of gains. 0.4% and believes that earnings growth may soon return to below 5%. . On the contrary, the growth of wags seems to be accelerating.
US Treasuries Friday and Weekly
US Treasuries sold hard immediately after the employment release and never really looked back the rest of Friday's session in New York, rapidly falling from 3.065% to 3.20% and ending the day at 3.225%. The 10s didn't fare much better, with yields jumping from 2.70% to 2.80% and ending the week up 18 basis points at 2.83%.
In the Fed Funds futures market, prices for the September FOMC meeting have moved from a roughly 35% chance that the Fed will raise another 75% on September 21 to just over 75%. Terminal funds rate pricing has increased from 3.43% (as of February 2023) to 3.64% (now as of March 2023).
Speaking on Saturday, Fed Governor Michelle Bowman said: "I think increases of a similar size should be on the table until we see inflation come down consistently, meaningfully and sustainably. " Bowman added that she supported last month's rate hike and backed dropping the offer of specific forward guidance at news conferences following policy meetings.
Also speaking after Friday's payrolls report, San Francisco Fed President Mary Daly was not as belligerent, saying: "Thinking about what happens next for interest rates , I still think we need to increase them – of course we don't. we need all the support we have given to the economy, but we don't need to be too aggressive. We are already seeing signs of a slowdown," she said in an interview with Fox News, adding that it takes a while for interest rate hikes to trickle down through the economy. "The good news is that people can find jobs. The bad news is that inflation remains too high. And our number one priority is to reduce that.
Friday and weekly actions

While the signal from the 2/10 yield curve is that a recession in 2023 looks even more entrenched, equity markets ended up following the bond signal throughout the day on Friday. Yes, stocks sold off at the open (S&P500 by more than 1%) in line with the jump in discount rates, but losses were almost fully recovered, only for the market to sell again but recover almost fully losses in afternoon trading to end the day down just 0.16% (the most interest rate sensitive NASDAQ – -0.5%).
Maybe the recession will never really come with such a strong job market? (Furthermore, according to FactSet, 75% of U.S. corporate inbound earnings in the second quarter thus exceeded their consensus estimate, by 3.4% on average). Consumer discretionary (-1.7%) was the worst performing sector in the S&P500 on Friday, more consistent with the signal of recession than broader market moves, but some offset came from energy (+2%) ), in which WTI crude rose 47 cents and Brent rose 80 cents. This came on a very mixed night for commodities, but saw copper climb 1.85% and iron ore futures 5% (see chart below).
FX Friday and Weekly

In currencies, true to recent form, USD/JPY showed the most sensitivity to surging Treasury yields, rising two major figures to Y135, meaning the pair has now retraced just over 50% of the massive sale from July 14 to August 2. The other big losers were NZD and SEK, both down -1.1%, followed by AUD, the latter down 0.9% to a low of 0.6870 (0.6911 to the New York fence). The AUD opened the week slightly higher, helped perhaps by Chinese trade data on Sunday which showed annual export growth of 18%, little changed in June but better than the expected 14.1%, more a recovery in import growth to 7.4% from 4.8%, also slightly better than expected.
The CAD fared less badly than the other G10 pairs, with USD/CAD only up 0.5%, helped by stronger oil but with mixed messages from the Canadian labor market down (rate of Unemployment unchanged at 4.9% vs. a rise to 5.0% expected, but employment – ​​a very noisy market number in Canada – down 30.6k vs. +15.0k expected). Friday's global currency moves, which saw the DXY USD Index +0.88%, rescued the USD from what would otherwise have been a week of declines (ending at +0.68%).
Finally, in the last hour or so, the U.S. Senate, using the casting vote of Vice President Harris, approved the Democrats' Tax and Climate Bill (known as the Tax Reduction Act). inflation") by 50-51. It is expected to be approved by the House of Representatives on Friday. The bill's overall fiscal impact is expected to be restrictive (i.e. more taxes than spending increases), although some observers will be quick to argue that spending will likely come before taxes. intended to pay them and reduce part of the deficit, so that it could increase rather than subtract from inflation in the coming year or more.
Goods Friday and Weekly

Coming
Not a big deal to start the week, highlight as it's likely to be the European Commission's Sentix Investor Confidence survey, which at -26.4 last month was not that far off its April 2020 early stage pandemic trough (-42.9). The consensus is for no change in August.
Over the week, the US CPI sits above everything else on the published calendar, having recently been the most mobile market of any economic release globally, encompassing both upside surprises and on the decline. The consensus for August is that the stock will be down to 8.8% from 9.1%, with lower gasoline prices a key factor, but the core (excluding food and energy) up to 6.1 % versus 5.9%.
Another one to watch on the inflation front will be the University of Michigan's Preliminary Consumer Sentiment Index and accompanying inflation forecast on Friday.
Elsewhere in the world, the focus will be on China's credit data in July (all times of the week) and China's CPI and PPI on Wednesday. The UK's Q2 GDP print on Friday, and ahead of what the Bank of England is now forecasting for five quarters of recession from Q4 this year, is expected to be negative.
Locally, the NAB Business Survey and W-MI Consumer Confidence are both released on Tuesday.
Market price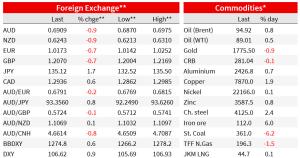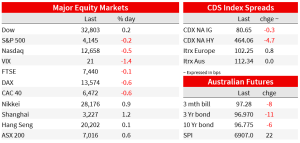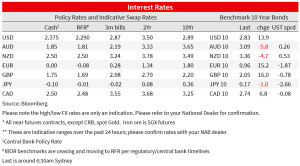 Read our NAB Markets Research Disclaimer. For more information on currencies, interest rates and commodities, visit nab.com.au/nabfifinancial markets